Are they not cute? Followers shortbread so simple and efficient you will amaze your children!
We share with you this recipe found on today http://www.boredpanda.com
Select piève wins like these: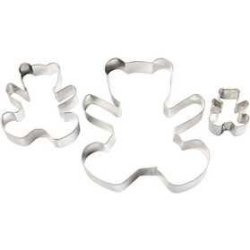 Preparation time: 15 minutes
Cooking time: 10 minutes
Ingredients (for 10 people):
- 3 eggs
- 500 g flour
- 250 soft butter or margarine good
- 250 g caster sugar
- 1 lemon or orange peel (untreated or organic)
Preparation of the recipe :
- Beat the butter so that it becomes almost sparkling.
- Add the eggs, sugar and beat for 10 minutes.
- Add flour and zest and form a paste by hand, make a ball and put some in the fridge
- Remove dough from refrigerator and place on 1/2 cm thick.
With shapes of cookie cutter cubs patterns, cut out biscuits and place on a plate lined with a sheet of parchment paper (or failing to foil).
- Make holes for the eyes and nose (step 3)
- Add the almonds, cashews or walnuts on teddy well folding their arms (steps 4-6)
- Top each cookie with a little egg yolk.
- Bake about 10 minutes at 150 ° C.
Then enjoy