Form, energy, immunity, awakening: PEDIAKID® puts the focus on gums
First line of nutritional supplements for young children (pre-adolescent), PEDIAKID® offers the best concentrated sources of nutrients with physiological effects through a set of adapted and safe solutions.
Always looking for innovative formulations, PEDIAKID® strives to respond more and more to the concerns of many parents, looking for simple and natural solutions to support the shape and well-being of their child(ren).
The PEDIAKID® line also offers a complete set of gums, suitable for children from 3 years, combining 100% active ingredients of natural origin and delicious taste ! Gelatin-free, gluten-free, lactose-free and preservative-free, PEDIAKID® cubs will delight children and parents alike! 
Vitamin C reduce fatigue and promote resistance!
With Acerola berry extract, rich in vitamin C 100% of natural origin with optimal bioavailability, the PEDIAKID® Vitamin C Gums, with 2 gums per day, make it possible to cover 100% of the reference intakes of Vitamin C and help to reduce fatigue and support energy metabolism and natural defenses. With delicious natural aroma of Cherry, they offer a practical, playful and healthy solution, appreciated by children to complete daily feed. It is especially recommended to start a cure at the start of school, for children in full form! 30 days program to repeat in case of fatigue episode!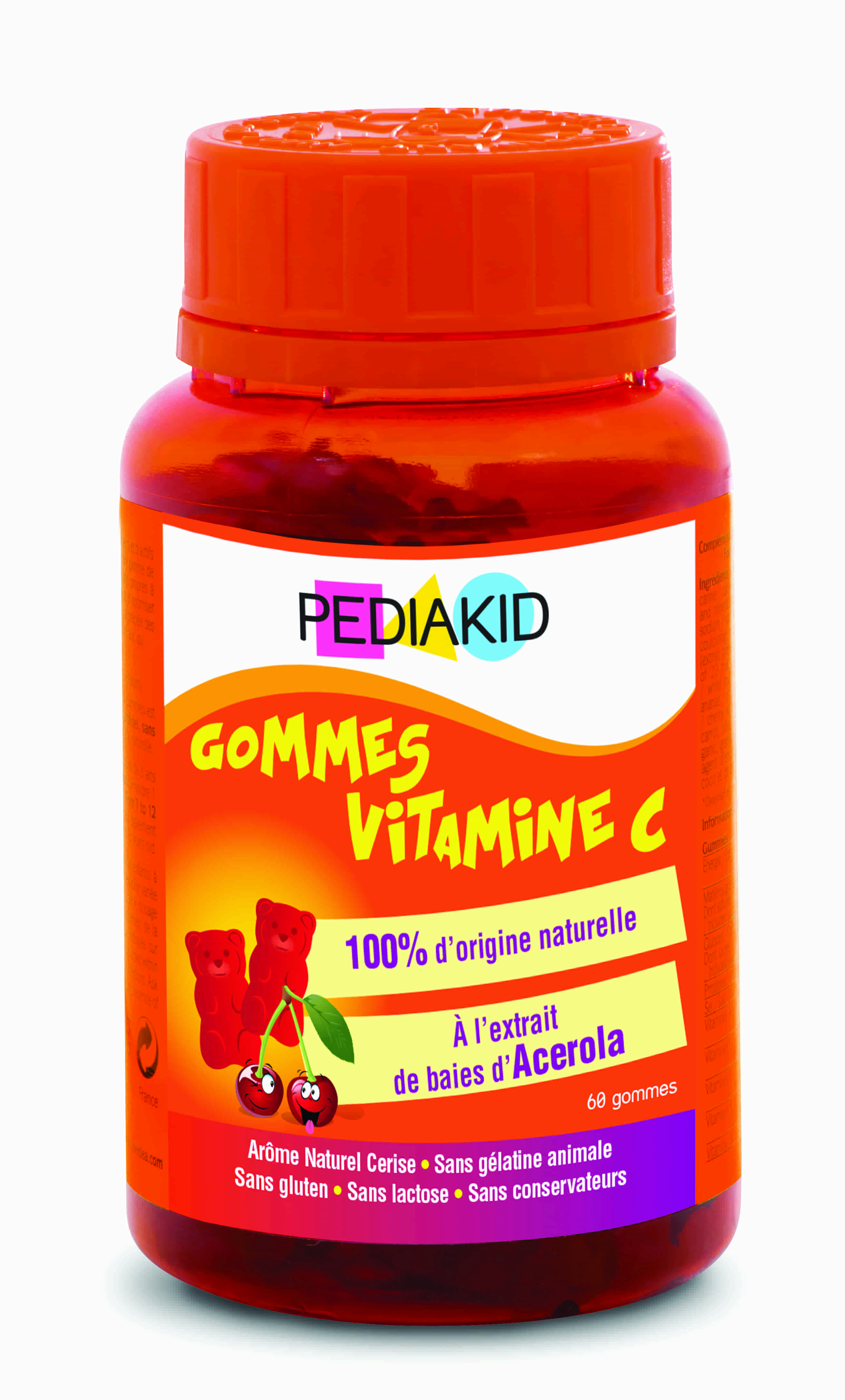 Vitamins and minerals to strengthen the defenses!
PEDIAKID® Multivitamin Gums combine 14 Vitamins and Minerals with a patented extract of 22 Fruits & Vegetables to help deliver essential micronutrients. Rich in Vitamins A, C, E, K, B1, B6, B8, B9, B12, Selenium and Zinc, Multivitamin Gums support healthy immune function (Vitamin C, Zinc, Selenium) And psychological (Vitamins B1, B2, B9 ...) and help to reduce fatigue (Vitamins C, B3, B5 ...). With delicious natural aromas of Orange and Cherry, these multivitaminous bears offer a complete and healthy solution for the child's daily well-being!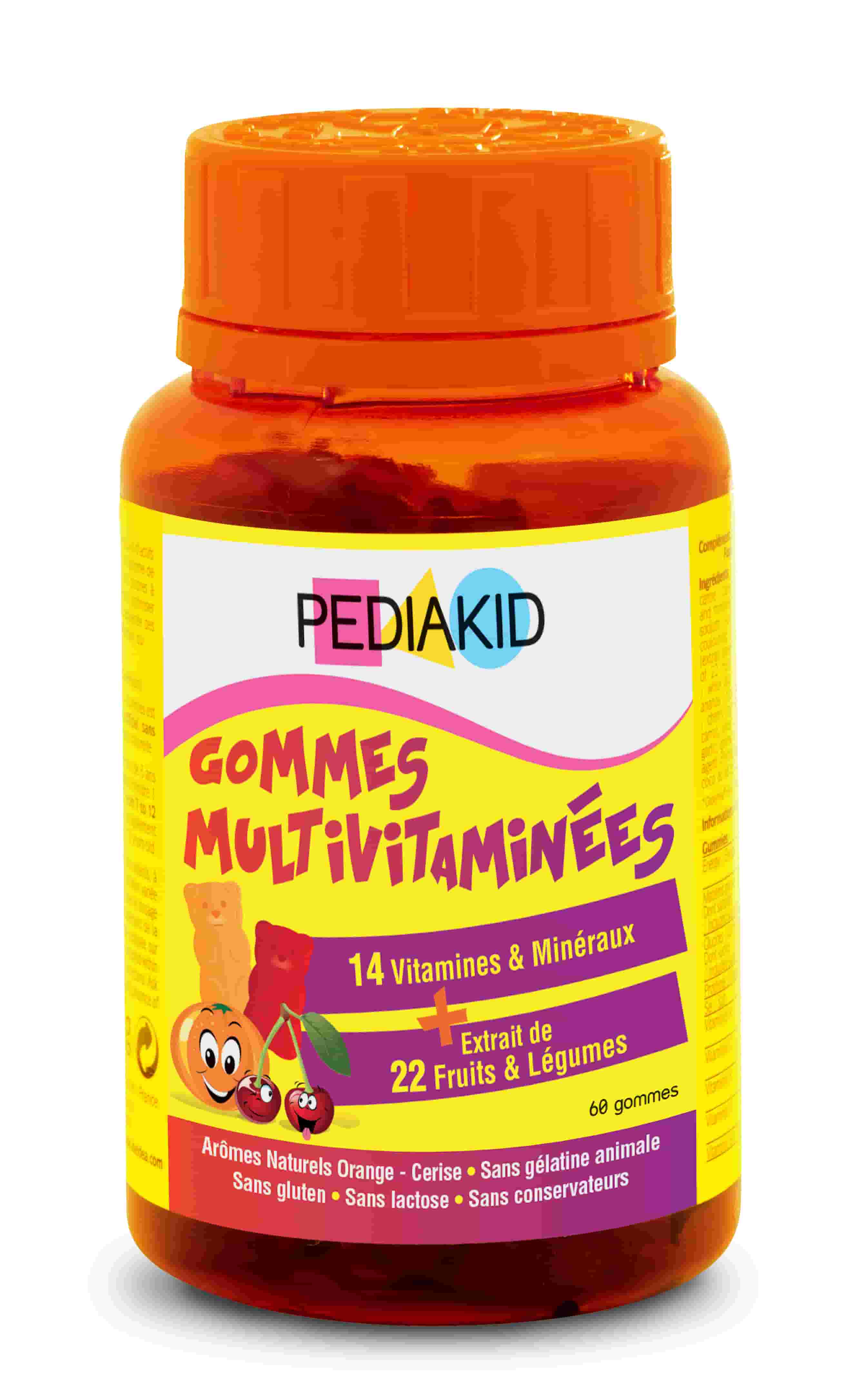 Royal Jelly, Propolis, Echinacea, Copper, ... to face the little ills of winter!
PEDIAKID® Immunity Gums combine natural assets rigorously selected for their recognized properties and their gentle action to support all the body's defenses. Recommended for seasonal changes, periods suitable for cooling, they are made from a complex of Royal Jelly, Propolis extract, Echinacea extract, vitamins and minerals to contribute to the normal functioning of the immune system (extract Echinacea, Vitamins C, B6, B12, Copper) and on the other hand to support the defenses of the organism especially during the winter period (extract of Echinacea). With delicious natural aroma of Raspberry, PEDIAKID® Immunity gums will quickly become the indispensable support of a winter full of vitality !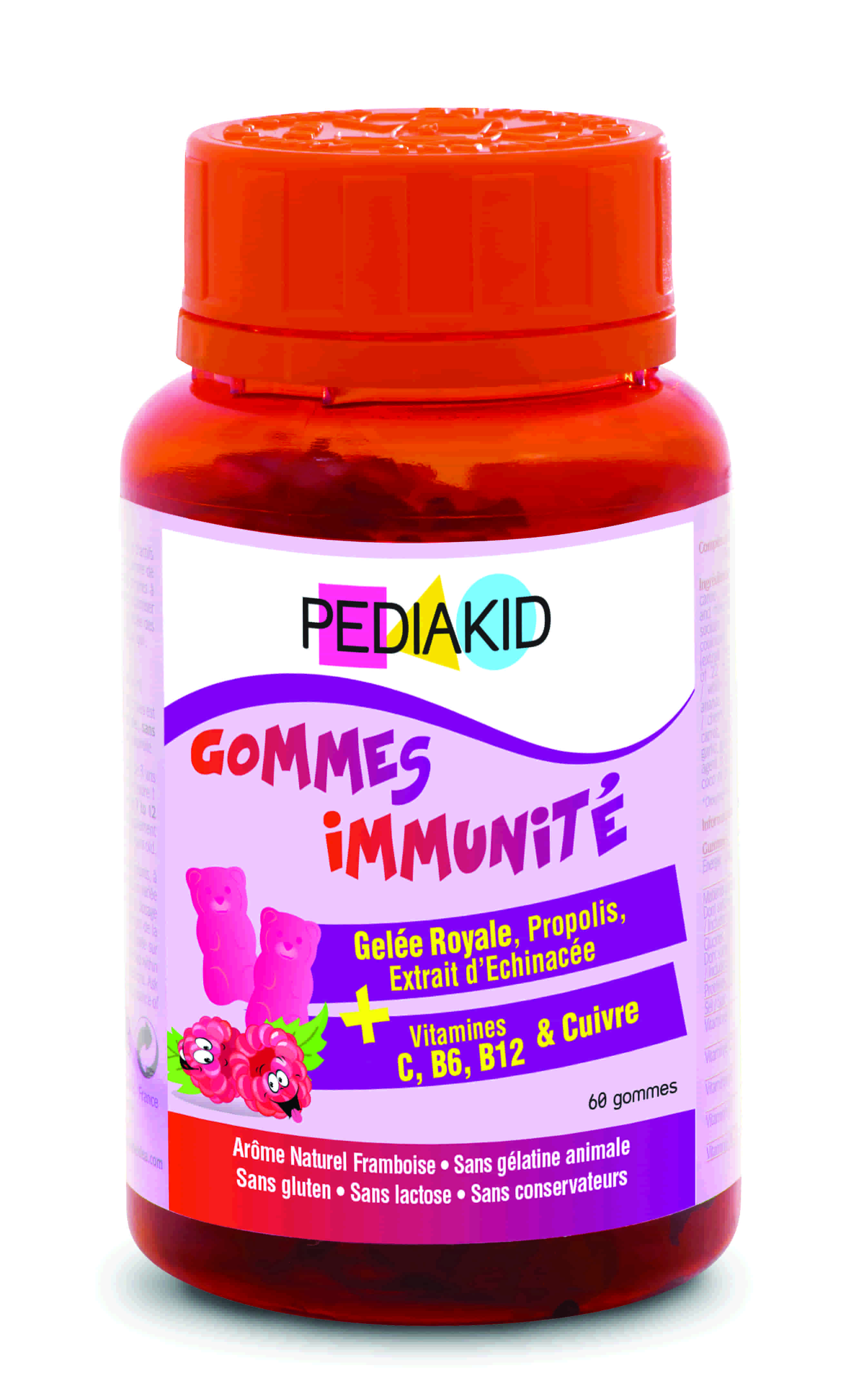 Probiotics to strengthen the intestinal flora and support natural defenses!
The digestive system harbors 50% of the body's defense potential. However, the intestinal flora of children is immature and its "shield" function is not optimal. PEDIAKID® Probiotics Gums combine 4 strains of Probiotics with a synergistic effect (Lactobacillus acidophilus, Lactobacillus casei, Lactobacillus plantarum, Streptococcus thermophilus) rigorously selected for their properties and specially treated to ensure perfect stability. A gum a day brings 500 million Probiotics, to support intestinal comfort and digestive functions, and contribute to the natural defenses of the body. With Apple natural flavor, they are much appreciated by children !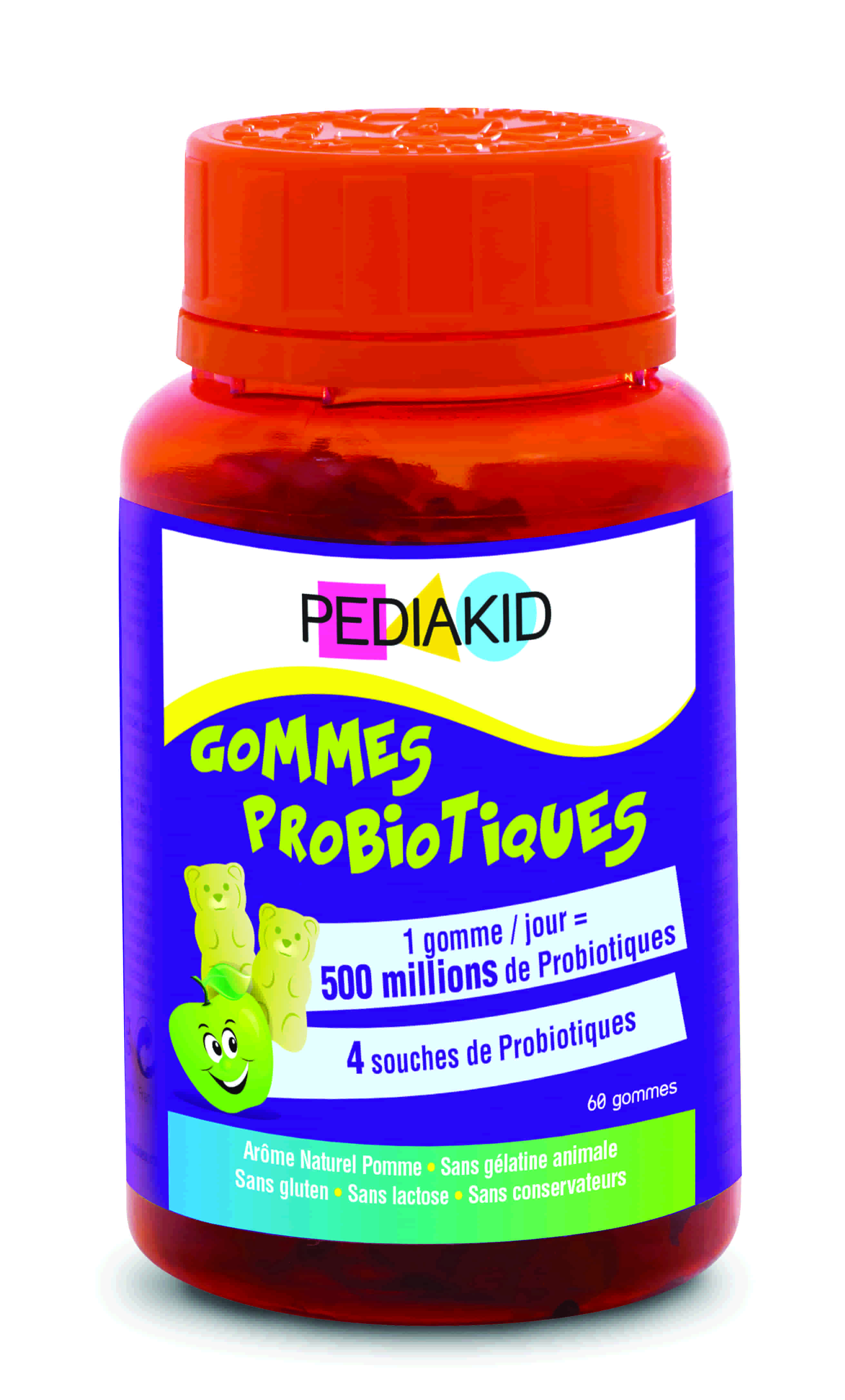 Omega 3 for a muscular brain !
During the school year, some periods are particularly dense and require more intellectual activity (concentration, attention, learning ...). PEDIAKID® Omega 3 Gums contain flaxseed oil rich in Omega 3, Vitamin E, B5 and B6 and source of Vitamin A and Zinc for growth and harmonious development thanks to essential fatty acids such as Alpha-linolenic acid, support cognitive functions such as concentration, memory (Zinc) and vision (Vitamin A), contribute to the synthesis of neurotransmitters and intellectual performance (Vitamins B5), but also contribute to the normal functioning of nervous system (Vitamin B6). With delicious natural lemon flavor, their good taste will delight the children !