Digestive disorders
Your little has intestinal problems, how to act?
Due to a high consumption of milk and an immature digestive system, small often suffer from colic. They ingest an excessive amount of liquid in proportion to their size and weight. For some, this liquid flow causes distension of the digestive tract, resulting in itself a painful abdominal bloating, present in about 30% of them! These spasmodic abdominal pain are usually accompanied by belching and gas. Digestive disorders of the small manifest from the second week, are major for the first quarter and usually subside after 6 months (dietary diversification).
Usually children squirm, cry for no apparent reason, often after taking their meal. They can curl up in fetal position slowly. Calm often comes after a series of burps or gas. During these colic, your baby may need to ask suck. But often he seeks any means that can help pass this pain. It is often difficult to calm and varied diet is not yet possible.
Our advices :
Avoid giving your baby too large quantities of milk at one go. If you give the breast, rest assured the quality of your milk is absolutely not in question. Breast milk is not too rich in lactose. Colic were also more common in babies fed formula.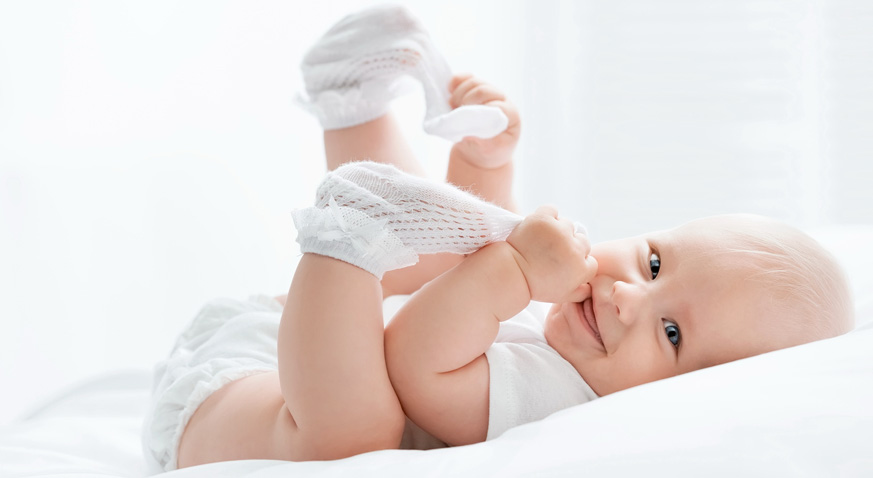 Anxious to provide the best answers to small inconvenience younger, PEDIAKID ® offers two solutions to help baby fight against intestinal disorders:
PEDIAKID ® Bébé gaz combines natural ingredients to improve digestive comfort and reduce smoothly gas and intestinal discomfort babies. Its gentle formula and fully appreciated babies brings prebiotic fibers and plants known for their digestive properties (Fennel, Chamomile, Peppermint and Lemon Balm). For easy taking, Baby gas is in the form of powder sticks to be diluted in a beverage.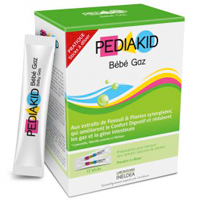 5 drops of PEDIAKID® Colicillus bébé bring each day to your child 1 billion probiotic Lactobacillus rhamnosus GG (strain selected for its high performance) to strengthen its intestinal flora and reduce abdominal contractions.
The intestinal flora is home to 50% of the potential of the body's defenses and is actively involved in digestion. In babies, this flora is immature, which can make them more susceptible to disturbances (change in diet at birth or during withdrawal, taking antibiotics, gastrointestinal viruses ...) and cause abdominal discomfort (colic, diarrhea ...). Probiotics reinforce the endogenous flora and are therefore particularly recommended in infants.