Fully fit children!
So that children develop optimally their full potential, it is vital to provide children with a healthy and balanced diet. In fact, good eating habits and physical activity adopted during childhood and adolescence greatly determine their future adult and well-being come.
It is often difficult to do well eat her child
First, because it, in constant evolution, is often disconcerting. One day he will love a menu; the next time he will hate. This tilt changes are part of the life skills, must be respected to avoid creating excessive blocking or food pipe. To encourage the adoption of healthy eating by toddlers, early on, it is necessary to put in place some basic rules: eat as a family, prepare dishes and various snacks, set an example and eat yourself everything involving children in meal preparation and most of all, avoid all disputes related to food.
Energy needs and specific nutrients:
Each child grows at its own pace, however, to do this, everyone must absorb large amounts of energy: this to meet the needs of their growth but also because they become more active every day.
Their meals should be small and frequent, high energy and nutrients: proteins, carbohydrates, fats (also called macronutrients) but also fruits and vegetables and dairy products that allow a good development and harmonious growth.
But to be profitable and not just calories, the child's diet should be rich in "micronutrients", that is to say in vitamins, minerals, essential fatty acids that increase the nutritional value of food and ensure good balanced.
These micronutrients are essential for proper assimilation, good processing and the proper use of macronutrients. The body generally can not manufacture them. But most foods popular with children is reduced micronutrient content, in that starchy foods, our darlings darlings, are low in vitamins, minerals and trace elements, when they are not "complete" .
Besides the current methods of extracting food (refining), cooking methods (microwave, frying, cooking water), conservation, destroy these micronutrients yet to how essential!
To help them grow well
When the daily diet does not contain enough micronutrients, certain disorders may emerge, such as bowel dysfunction, sleep or mood, lower natural defenses ...
Without gravity, these disorders should moreover be taken into consideration at the age where the need to build the body are so important.
The PEDIAKID ® Transit doux syrup for children since the food is diverse. Its formula based Artichoke, Fig, Tamarin, Rhubarb, Pruneau participates in good digestive function, regulates digestive transit and improves daily comfort.
Deliciously flavored with natural pomme. Flacon concentrate 125 ml pouch
PEDIAKID ® Sommeil combines the active ingredients of natural origin to promote sleep and prevent nighttime awakenings. His gentle, soothing formula, with lavender, lemon balm, chamomile, marjoram and Hawthorn, is ideal to soothe the child at bedtime and find quality sleep, helpful in maintaining alertness during the day and vitality.
Deliciously flavored with natural cherry concentrate. 125 ml bottle holster or family Format 250ml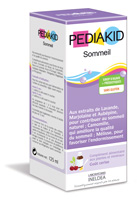 To reduce agitation and promote appeasement, PEDIAKID® Nervosité offers a gentle and effective solution, herbal (Passionflower, hops, lemon balm, orange blossom) and Vitamin B6.
Deliciously flavored with natural cassis.Flacon concentrate 125 ml pouch.